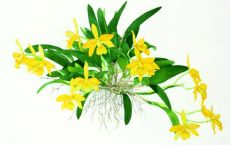 The Contemporary Watercolors and Traditional Botanical Illustrations of Carol Wickenhiser-Schaudt
As a watercolorist who started out to be a biologist, Carol's paintings may remind you of looking through a microscope. She concentrates on minute pieces of the world around her. People often overlook the beauty that Carol sees in the small details of nature. Few can view her paintings without commenting on these details.
Typical of her work are the botanical illustrations of endangered species. Many of her orchid illustrations have received awards in juried shows. These include shows at the National Arboretum, the Smithsonian, National Museum of Natural History and Duke University. Other views of her world might be a back alley in London, a snow-covered courtyard in Siberia or the bitts and hawsers (mooring ropes) that she hung onto for dear life, seasick, offshore in the Gulf of Mexico while releasing endangered seaturtles.



The contents of this website are copyrighted (©2001) by Carol L. Wickenhiser-Schaudt. Fair use of the materials in this site include but, are not limited to, brief quotes or passages in reviews of this site or, illustrations accompanying a link to this page. Other reproduction or duplication in whole or part of this page without the expressed written permission of C.L. Wickenhiser-Schaudt is not permitted under law.
Comments? Questions? Ideas? Email Carol
Revised: January 06, 2001.